21 Oct 2019
AQUA 2019 brings out the superlatives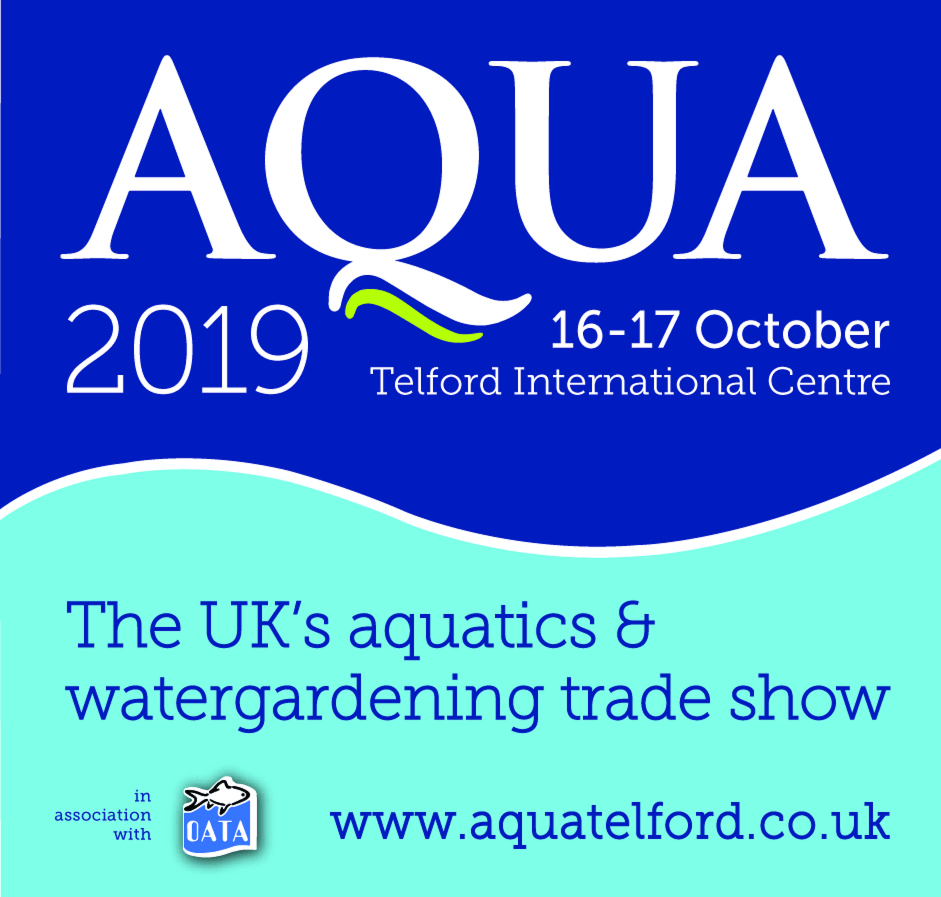 The superlatives flowed thick and fast after the two-day AQUA 2019, and among the words being used to describe the event were 'excellent', 'innovative' and 'fantastic'.
A total of 1,502 visitors attended the show at Telford International Centre, and they were greeted by over 80 exhibitors – clear evidence that AQUA 2019 has been a huge success for everyone concerned.
As the doors closed on another memorable event, Mark Winter, managing director of Aqua One, summed up the mood in the exhibition hall, saying: "This year's show has exceeded my expectations with the opening day being the busiest day ever at an AQUA exhibition."
Mark, who celebrated after picking up a Lifetime Achievement Award and New Product Award at the AQUA dinner, added: "I'm so proud to be associated with such a successful event."
And Steve Davies, managing director of Plimat UK Ltd, was equally enthusiastic about the outcome of the event. "It's our first time exhibiting at AQUA and I have to say wow! There is so much that attracts the eye – bright and enticing stands plus the diversity of all the products. It has been a great show for us, more than we could have expected."
Another first-time exhibitor was PM Aquatic Wholesale, whose Jeremy Gay commented: "We've only got a small stand but it has really worked for us with lots of leads, both from existing and new customers. It's been so good we'll definitely be back next time."
Juwel Aquarium made a return to AQUA and the company's Kevin Allen said it had proved to be the right decision. "We've had lots of comments from customers saying they were glad to see us back at the show so I'm glad we've returned. It has been an excellent show for us and we'll definitely be back in two years time."
International companies have also given the show the thumbs-up. Marcel Pellekooren, director of AquaLine from The Netherlands, said: "We visited the show two years ago and afterwards made the decision to exhibit this year, and we are so pleased we did. It has provided us with the opportunity to forge new business."
Satisfaction among visitors was equally high. Stuart Pell, owner of Angel Aquatics, North Walsham, Norfolk, said: "It's great to see the whole industry coming together under one roof. I particularly like the fact that you can compare products and make an informed judgement about what to buy. It definitely formulates my buying strategy."
Rick Johnson, manager of Sunny Bank Koi, Congleton, Cheshire, said: "It's the first time I've attended an AQUA show and it has been fantastic. I love the way the show is set out – it's bright, colourful and enticing. We're looking to expand into tropical fish, and AQUA has been the perfect place for us to source new products in this sector of the market.
Andrew Stratton, managing director of Pelagic Aquatics, Kent, commented: "It feels a busier show this year with more variety of products and more information, which is good to see and good for the trade. This show gives us the opportunity to see our existing suppliers but also the chance to meet new companies."
And Matt Hogg, of Custom Reef Aquariums, Surrey, added: "AQUA is brilliant. It provides visitors with an opportunity to see what's around and what's coming up. It's essential to attend this show and I never miss it."
One of the main talking points was the AQUA dinner attended by 500 guests after day one of the show.
Jo Bladon, who organised the dinner, said: "It was a great evening with an amazing number of exhibitors and visitors enjoying themselves," a comment echoed by one guest who remarked: "Wow, what a fantastic event. I'm astounded that so many people from the industry were able to attend."
Show photographs
Photographs from AQUA 2019 are now available on the web gallery of our official show photographer, SIRA Studio. Here's how to access them:
1. Visit www.sirastudio.com
2. Click on Client Web Galleries
3. Click on the Conference and Exhibitions folder
4. Click on the AQUA 2019 folder
5. On the password screen enter: telford19
For more information contact Neil Pope at press@impact-exhibitions.com or on 07595 442601.