17 Oct 2019
AQUA 2019 gets off to successful start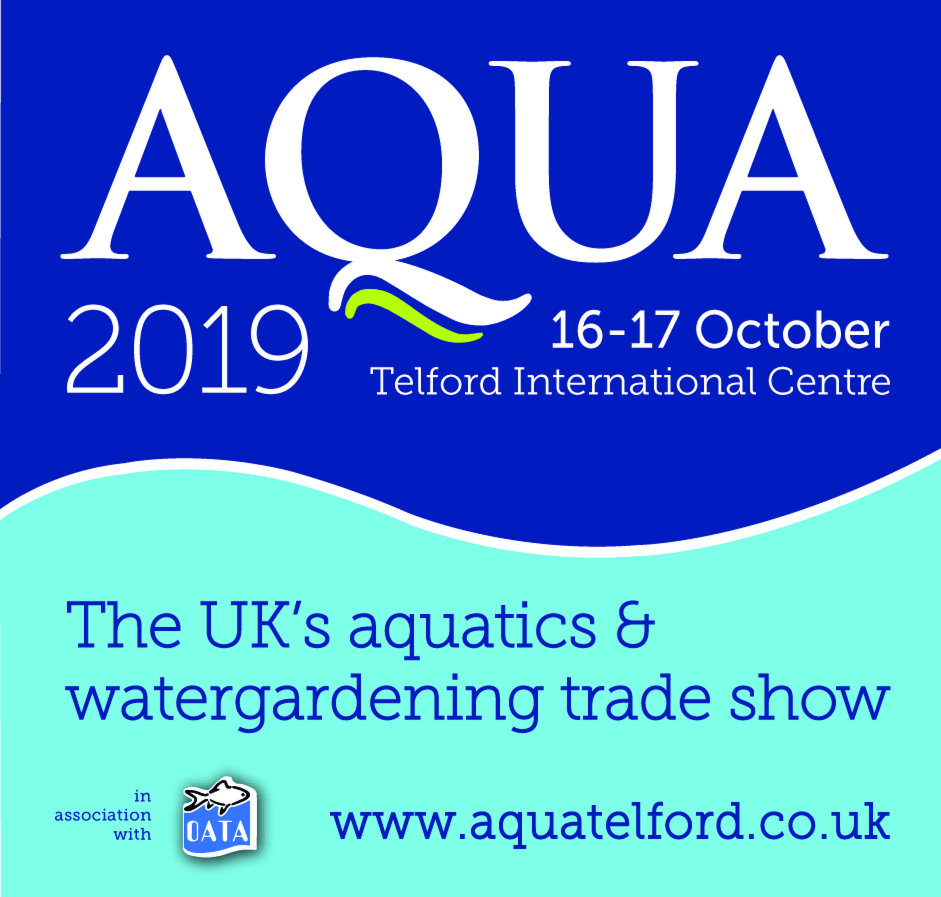 The opening day of AQUA 2019 has been hailed a great success by exhibitors who unveiled an amazing array of products at Telford International Centre.
The excitement has been building for months with over 80 companies planning their new launches around AQUA 2019, and it led to a constant buzz throughout the first day.
Ruth Low, a director of Gordon Low, summed up the mood of exhibitors when she said: "It has been a fantastic first day. I haven't stopped talking to new and current customers and I'm really happy with how things have gone.
"I love this show because it has a real community feel about it. I love the set-up, it's well organised and so professional, and everyone is very helpful. It's a pleasure to be exhibiting here."
And Andy Bond, national sales manager of OASE UK, said: "We've been flat-out all day, and it's great to see so much interest being shown in our new products. AQUA is such a good exhibition because it gives retailers the chance to see all the new products first hand."
AQUA 2019 is also an important date in the calendar for an impressive list of international exhibitors. Joey Abrahams, a director of Aquadip from The Netherlands, commented: "This event is crucial for our business and is the ideal opportunity to meet current and new UK customers. It's always a good show, and is especially important for us this year because of all the uncertainty caused by Brexit."
The first day of the show also got the thumbs-up from visiting retailers. Steve Warburton, of Ripples Waterlife, Nantwich, Cheshire, said: "This is such an important show for the industry. Being able to see so many new products, meet our suppliers face to face and talk to fellow retailers, is so valuable to us. There is nowhere else like it – it's just fantastic."
An exciting addition to this year's exhibition is the aquascaping demonstrations by American-based Luis Navarro, who is producing four unique tank designs during the show. These inspiring designs have been designed to provide retailers with ideas on how they can inspire their customers to create something special in their own tanks.
Every visitor who attends the demonstrations, sponsored by ALF, is in with a chance to win one of the four fully aquascaped aquarium sets worth £700 (RRP) each.
Following the successful first day, the AQUA dinner promised to be another memorable occasion with over 500 buyers and exhibitors booked to attend. During the evening the New Product Awards, which produced a record number of entries this year, were being presented.
The show is open for a second day on Thursday, October 17, from 9am to 4pm.
For more information contact Neil Pope at press@impact-exhibitions.com or on 07595 442601.
Photographs from AQUA 19:
Photographs will be available online on the web gallery of our official show photographer, SIRA Studio. A wide selection of photographs will be uploaded after the first day of the show, Wednesday, October 16, and will be available by 3pm on Thursday, October 17. Here's how to access them:
1. Visit www.sirastudio.com
2. Click on Client Web Galleries
3. Click on the Conference and Exhibitions folder
4. Click on the AQUA 2019 folder
5. On the password screen enter: telford19
For more information contact Neil Pope at press@impact-exhibitions.com or on 07595 442601.