10 Oct 2018
AQUA 2019 shaping up to be a fantastic show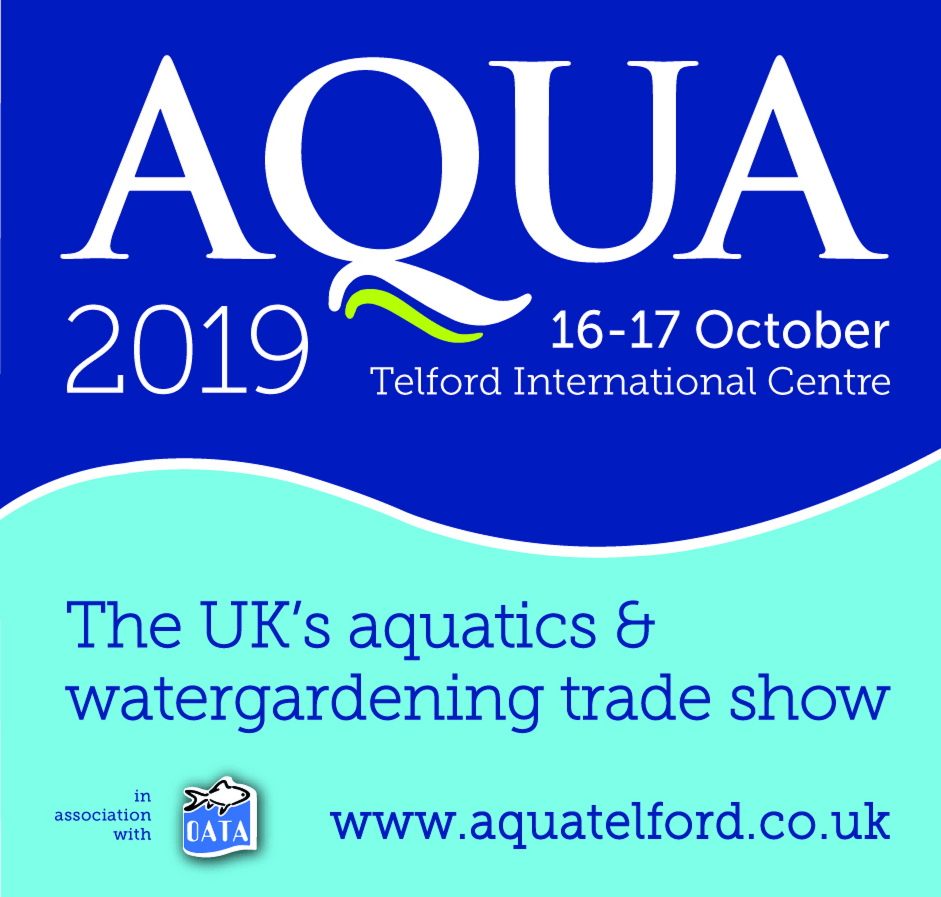 With a year to go before AQUA 2019, the UK's aquatics and water gardening trade exhibition is shaping up to be one of the best shows ever staged in its history.
Returning exhibitors include AQUA One, Beaver Plants, CASCO Pet, Evolution Aqua, Gordon Low, Hozelock, Interpet, Lotus, Neil Hardy Aquatics, NT Laboratories, OASE, Pedigree Wholesale, Red Sea, Seneye, Tetra and Tropical Marine Centre.
The two-day exhibition at Telford International Centre on October 16-17, 2019, will also have a strong international presence with Aquadip and Velda (The Netherlands), Hydor (Italy), Tropica Aquarium Plants (Denmark), and ATM Aquarium Products (America) taking stands. A full list of exhibitors is on the AQUA website www.aquatelford.co.uk.
Dr David Pool, Chairman of the show's organisers OATA Impact Exhibitions, "Preparations are well underway for the sixth AQUA show in 2019. It is going to be even better than previous shows, and I can't wait to see it on the opening day."
AQUA, which is staged every two years, has grown in size and popularity with Gordon Low Products agreeing it's the perfect stage to launch and showcase products. Director Ruth Low says: "We are looking forward to next year's show – a year does seem a long time, but it goes so quickly. We are quite a small company so this bi-annual opportunity to see all our lovely customers under one roof and have a fab night out with them, is just great."
It's a similar story for Aqua One, whose Managing Director Mark Winter says: "We always look forward to an AQUA year. It is the one time we can get together with customers. The timing of show is also ideal for some major range launches we have planned. Aqua 2017 was big for us as a business – 2019 could just be even bigger."
Steve Bolton, of Pettex, comments: "We're always excited to be involved with AQUA as it gives us such a great opportunity to meet with a wide range of retailers."
There will be lots for visitors to see and do at AQUA 2019 and one of the most popular features is the New Products Showcase where exhibitors get the chance to unveil their latest launches. A panel of retailers will judge all entries on the first morning of the show before the New Product Awards are handed out to the winners at the AQUA dinner later in the day.
"It's great to see the industry getting right behind AQUA 2019," says organiser Annie Foord. "Major companies from both the UK and abroad are returning to show, and we're confident it will be another fantastic event."
Annie talks to exhibitors on a regular basis and she knows that AQUA 2019 is an important date in their calendar. "Companies will be working hard between now and next year's exhibition to produce new and innovative products and services. So if you're a retailer or buyer make sure you put the date in your diary. It's an event you can't afford to miss."
To discover more reasons why AQUA has become a vital date in the water gardening and aquatics trade calendar, retailers and buyers can view comments about the 2017 event in a special video at https://vimeo.com/239639526. And for more information about the show visit www.aquatelford.co.uk
Date for the diary
AQUA 2019, October 16-17, Telford International Centre
Ends 9th October 2018
Show photographs
Photographs of AQUA 2017 are available as follows:
1. Visit www.sirastudio.com
2. Click on Web Galleries
3. Click on the Conference and Exhibitions folder
4. Click on the AQUA 2017 folder
5. On the password screen enter: aqua17telford
For further media information please contact Neil Pope on 07595 442601, or email press@impact-exhibitions.com