29 Apr 2020
AQUA 2021 takes on an even more crucial role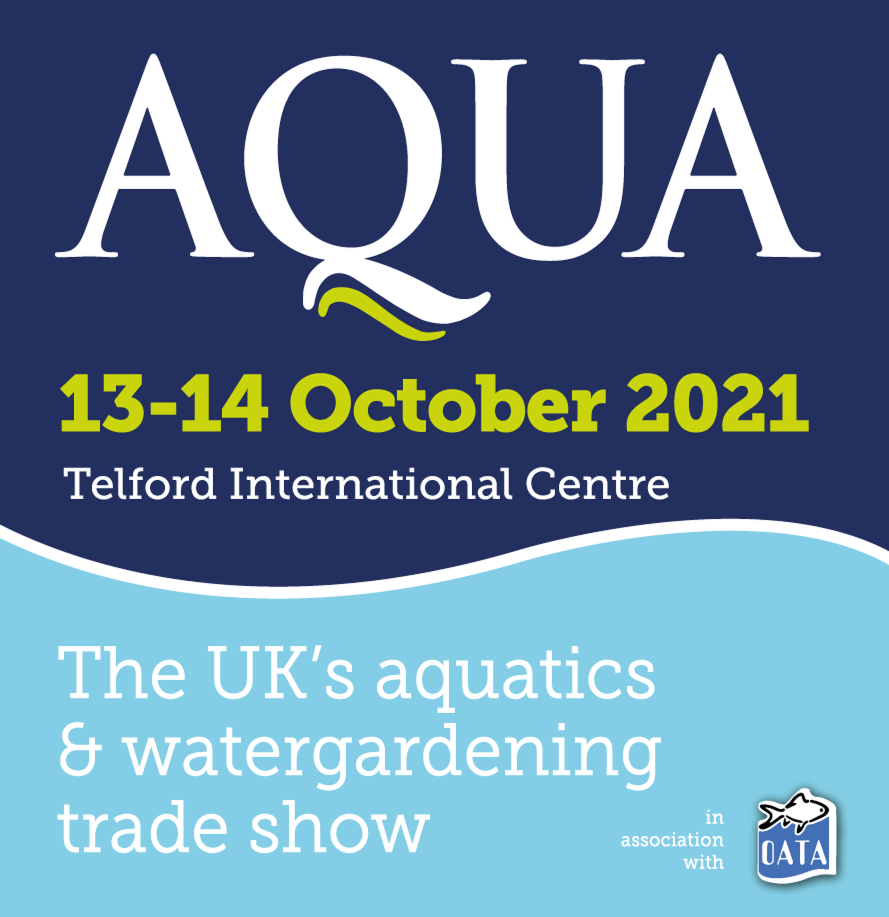 AQUA 2021 will be a crucial event in the aquatics and watergardening industry, according to UK and international suppliers and retailers.
Planning for the exhibition in October 2021 has already started with companies booking their stand space for the biennial event.
Stuart Bertram, sales director of D-D The Aquarium Solution, summed up the mood of exhibitors, saying: "AQUA is the ideal environment to meet with all of our customers in a friendly and personal setting. The exhibition ticks all of the boxes for a well-run show, in a convenient central location, where we can showcase new products, meet new people or just sit down and chinwag with old friends."
And Andy Bond, national sales manager of OASE UK, remarked: "AQUA is such a good exhibition because it gives retailers the chance to see all the new products first hand."
AQUA 2021 will be returning to the Telford International Centre on Wednesday 13th and Thursday 14th October, 2021. Major companies acknowledge the importance of exhibiting their products and services to aquatic and garden centre retailers, all under one roof.
"It's great to see the industry getting right behind the show again, especially when there is so much uncertainty throughout the world at the moment," said organiser Gordon Thomas.
"Starting to plan for a show like AQUA 2021 will hopefully bring some respite from the current coronavirus crisis. I know companies will be working hard between now and next year's exhibition to produce new and innovative products and services."
One retailer who has already put AQUA 2021 in his diary is Simon Jenkins, of Ripples Waterlife, who has been a New Product Award judge at the show in the past. "It's always great to get everyone from the trade together, and it's important this happens every two years. I thought the show last October was a success and look forward to AQUA 2021. I know a lot of effort goes into getting these events to work."
Joining leading UK companies at AQUA 2021 will be a long list of international brands from around the world, including America, Denmark, France, Germany, Italy, The Czech Republic, and The Netherlands.
As well as getting to see all the new products to be launched on to the market, visitors will also be invited to join exhibitors at an AQUA dinner on the first evening of the exhibition. The dinner is one of the main highlights of the event, where guests get the chance to relax with fellow industry colleagues.
Details of the 2021 event can also be found on the exhibition's new-look website www.aquatelford.co.uk, which includes the latest show news, how to register to visit, and the AQUA dinner.
To discover more reasons why AQUA has become a vital date in the water gardening and aquatics trade calendar, retailers and suppliers can view a special video of last October's event at https://vimeo.com/371139081.
Ends 29th April 2020
Show photographs
Photographs of AQUA 2019 are available as follows:
1. Visit www.sirastudio.com
2. Click on Web Galleries
3. Click on the Conference and Exhibitions folder
4. Click on the AQUA 2019 folder
5. On the password screen enter: telford19
For further media information please contact Neil Pope on 07595 442601, or email press@impact-exhibitions.com