19 Oct 2017
FIRST DAY AT AQUA 2017 HAILED A HUGE SUCCESS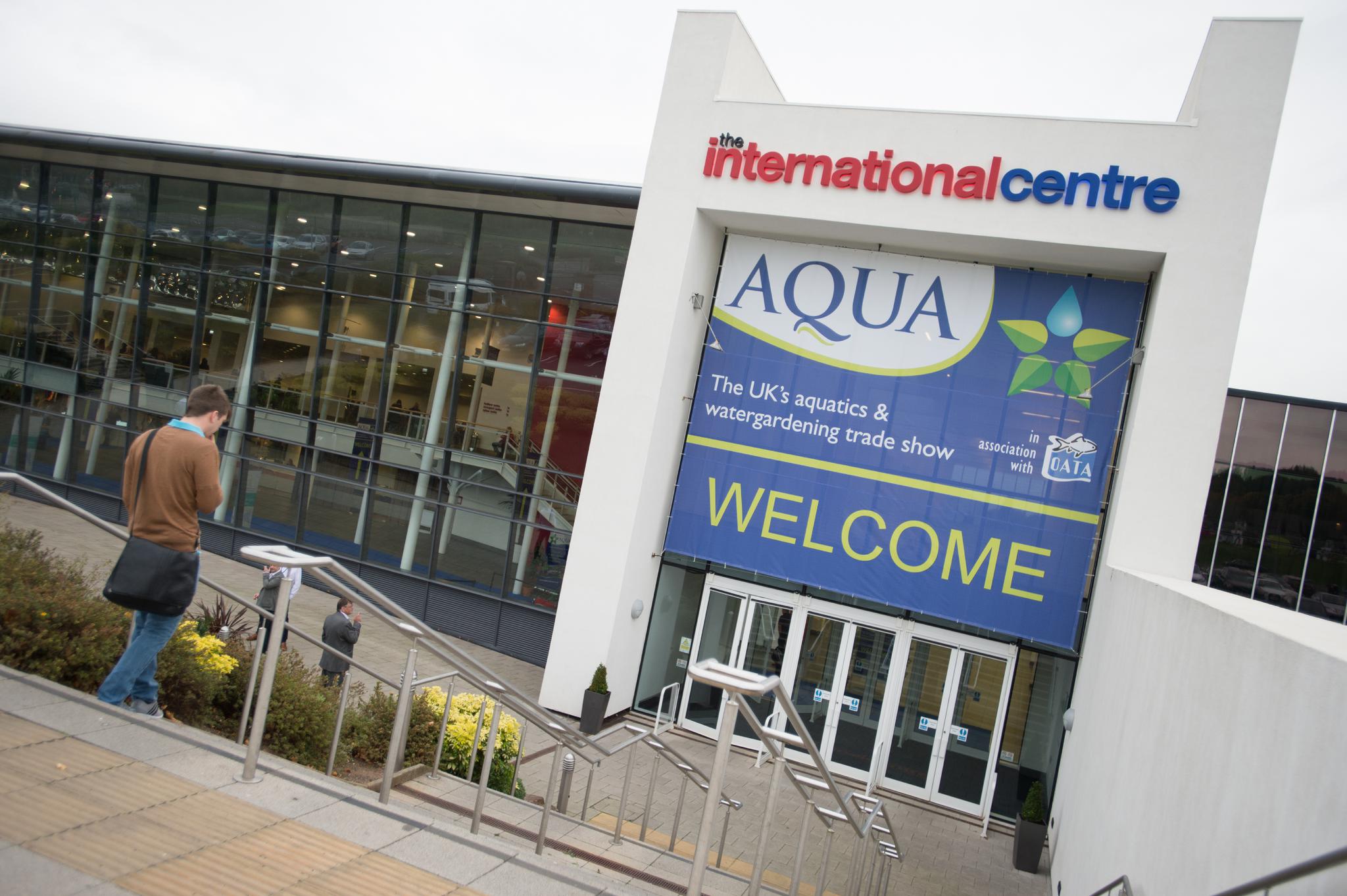 The opening day of AQUA 2017 has been hailed a huge success by exhibitors who unveiled an amazing array of products to visitors flocking to Telford International Centre.
The excitement has been building for months with over 100 companies planning their new launches around AQUA 2017, and it led to a constant buzz throughout the first day
Ruth Low, a director of Gordon Low, summed up the mood of exhibitors when she said: "It has been a fantastic first day. I haven't stopped talking to new and current customers and I'm really happy with how things have gone."
And Ashleigh Foster, marketing manager of Tetra, said: "AQUA allows us to showcase all our new launches. So far the show has been great and the sales force have been busy all day."
There were some amazing stand designs throughout the exhibition hall with plenty of things for visitors to see and do during their stay at the AQUA show.
Tropical Marine Centre had an Hawaiin theme on their stand, while the 'Display Creations', featuring a Hammerhead Shark and Giant Koi, certainly stopped visitors in their tracks on the Hamac Trading Company stand.
This year's show was the first AQUA event for Marine Arts, and Steve Le Chevalier was amazed by the response to his company's display of decorative seashells. "We weren't sure what reaction we would get but we took our first order after only 10 minutes of the doors opening and never looked back. AQUA has opened up a whole new world to us."
Kelkay were another new exhibitor and they also had great success on the opening day. "It has been fantastic and well worth us showcasing our new range of fountains. We've been impressed with the quality of visitors."
Prodibio have exhibited at AQUA in the past but according to Laura Beswarick this exhibition has been the best yet. "We are launching two new products and they have created lots of leads and orders."
The first day of the show also got the thumbs-up from visiting retailers. Daniel Weston, of Reef Aquatics in Bognor Regis, said: "We never think twice about making the trip to AQUA. There is always a good variety of new products to see and all the main companies exhibit. The atmosphere in the exhibition hall is brilliant, and everyone is friendly, chatty and helpful. We also love the AQUA dinner where we can meet and speak to other retailers, and also relax in the company of our suppliers. AQUA is such a fantastic event."
Tim Savage, of Pond Planet in Stockton-on-Tees, admitted that spending two days the show was vital to his business. "AQUA allows us to have a dedicated amount of time talking to manufacturers and suppliers. The show is well set up and easy to get around, and is the perfect showcase for everything that's new in the market. It's the ideal place to raise awareness of new products."
Following the successful first day, the AQUA dinner promised to be another memorable occasion with nearly 700 exhibitors booked to attend. During the evening the New Product Awards were being presented.
The show is open for a second day on Thursday, October 19, from 9am to 4pm.
For more information contact Neil Pope at press@impact-exhibitions.com or on 07595 442601.
Photographs from AQUA 17:
Photographs will be available online on the web gallery of our official show photographer, SIRA Studio. A wide selection of photographs will be uploaded after the first day of the show, Wednesday, October 18, and will be available by 3pm on Thursday, October 19. Here's how to access them:
1. Visit www.sirastudio.com
2. Click on Client Web Galleries
3. Click on the Conference and Exhibitions folder
4. Click on the AQUA 2017 folder
5. On the password screen enter: aqua17telford
For more information contact Neil Pope at press@impact-exhibitions.com or on 07595 442601.