17 Jan 2019
Major companies exhibiting at AQUA 2019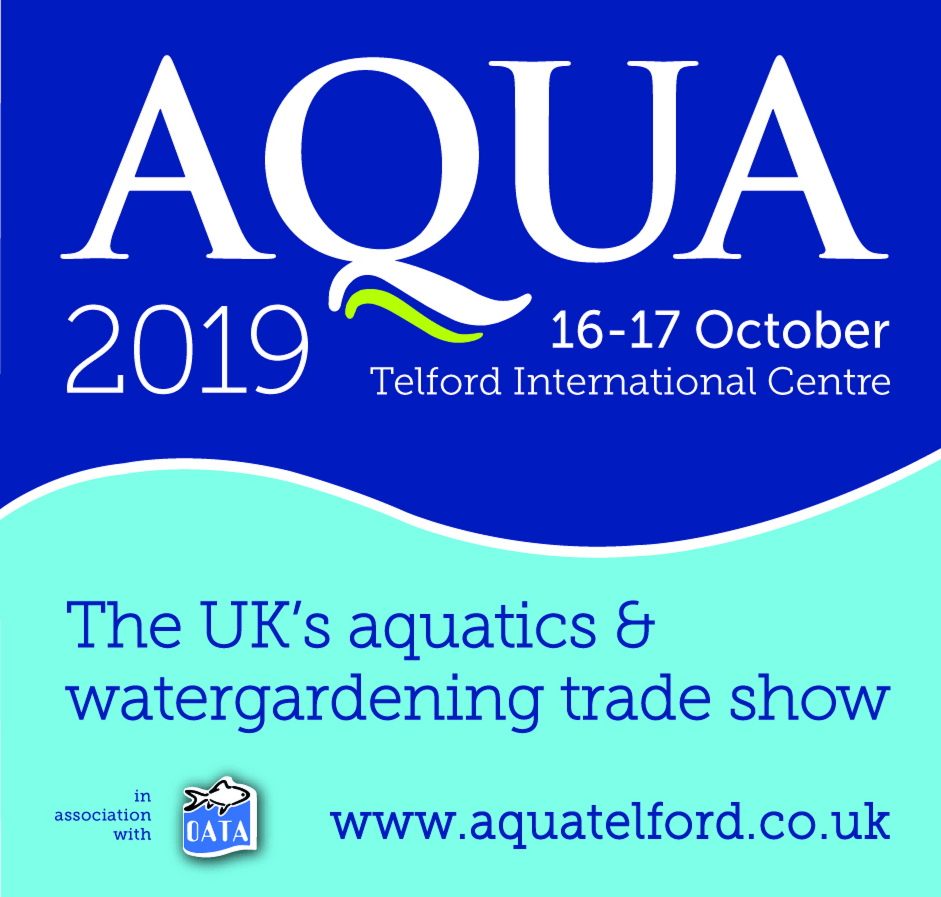 Visitors to AQUA 2019 in October can expect a busy and exciting show as the exhibition hall at Telford International Centre will be packed with companies showcasing new products.
Show organiser Annie Foord said: "I'm happy to report that the UK's major companies are again heading for Telford and we will be welcoming an impressive number of international businesses, who regard AQUA as their major platform to showcase products to UK buyers."
Visitors can expect a warm welcome from companies like AQUA One, Beaver Plants, CASCO Pet, Evolution Aqua, Fish Science, Gordon Low, Hozelock, Interpet, Lotus, Neil Hardy Aquatics, Norwood Aquarium, NT Laboratories, OASE, Pedigree Wholesale, Red Sea, Seneye, Tetra and Tropical Marine Centre.
A strong international presence at the two-day exhibition at Telford International Centre on October 16-17 will be represented by Aquadip and Velda (The Netherlands), Hydor (Italy), Tropica Aquarium Plants (Denmark), and ATM Aquarium Products (America).
A full list of exhibitors is on the AQUA website www.aquatelford.co.uk.
AQUA One's Managing Director Mark Winter summed up why the exhibition has become such an important event in the aquatics and watergardening industry. "We always look forward to an AQUA year. It is the one time we can get together with customers. The timing of show is also ideal for some major range launches we have planned. Aqua 2017 was big for us as a business – 2019 could just be even bigger."
Gordon Low Products are a regular exhibitor to AQUA, as director Ruth Low explained: "We are looking forward to this year's show. We are quite a small company so this bi-annual opportunity to see all our lovely customers under one roof and have a fab night out with them, is just great."
The New Product Showcase, sponsored by pbwnews, is one of the most popular features at the event as visiting buyers welcome the chance to view all the latest launches in one dedicated area.
More than 100 new products were showcased in 2017 when AQUA was last staged, and a higher number is expected this year. All the items will be entered into the New Product Awards, which will be judged by a team of independent retailers on the opening morning of the show.
The 10 categories that make up the Showcase and Awards are:
POS/Merchandising Support
Reptile
Pond Construction/Decoration
Pond Pumps
Pond Filters
Pond Food, Care and Accessories
Aquaria, Furniture and Decor
Freshwater Equipment
Aquarium Food, Care and Accessories
Marine Equipment
As well as getting to see all the new products to be launched on to the market, visitors will be well looked-after during their stay, including free parking, a free catalogue and a free deli bag lunch. And retailers and buyers will also be invited to join exhibitors at the AQUA dinner, which takes place on the first evening of the exhibition.
The AQUA 2019 website can be found at www.aquatelford.co.uk and the AQUA hotline is +44 (0) 1892 862848.
Date for the diary
AQUA 2019, October 16-17, Telford International Centre
Ends 16th January 2019
Photographs of AQUA 2017 are available as follows:
1. Visit www.sirastudio.com
2. Click on Galleries
3. Click on the Conference and Exhibitions folder
4. Click on the AQUA 2017 folder
5. On the password screen enter: aqua17telford
For further media information please contact Neil Pope on 07595 442601, or email press@impact-exhibitions.com