05 Jan 2021
Registration for AQUA 2021 now open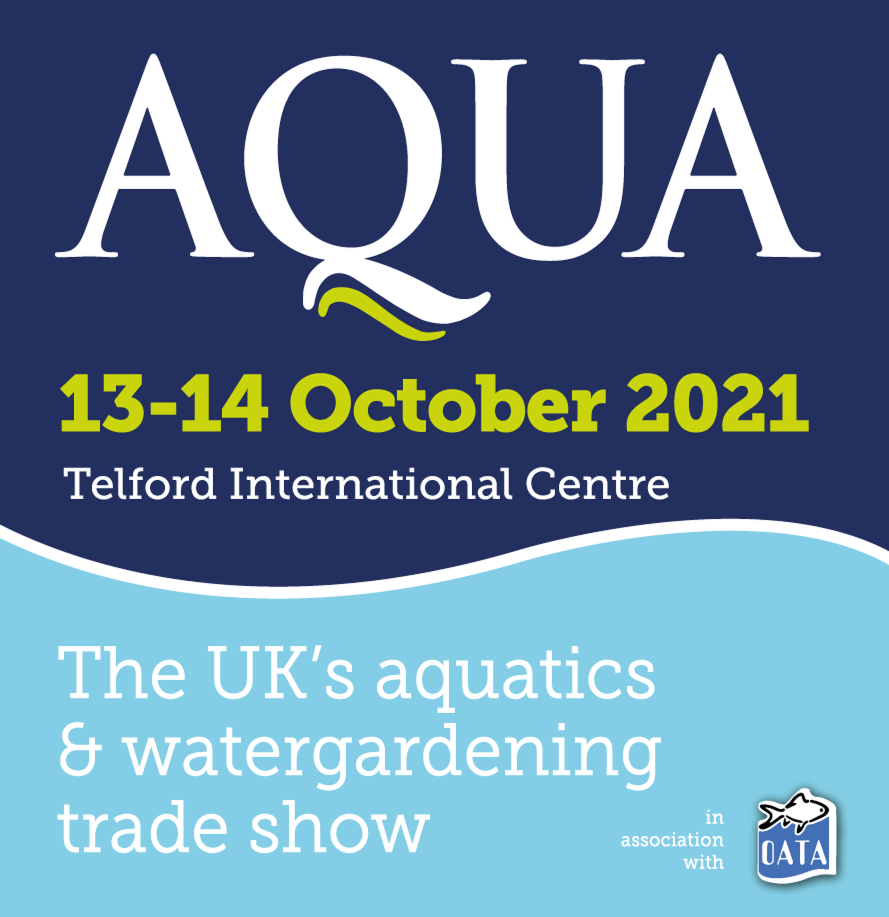 AQUA 2021, the market-leading showcase for the UK's water gardening and aquatics trade, will be returning to the Telford International Centre on Wednesday 13th and Thursday 14th October, 2021.
Now firmly established as a biennial event, AQUA 2021 is set to attract the major companies in the industry, who acknowledge the importance of exhibiting their products and services to aquatic and garden centre retailers face to face.
Preparations for the 2021 event are underway and registration for entry is now open.
Organiser Gordon Thomas said: "There was a flood of people applying for entry via the AQUA website as soon as we opened up for registration, and that shows there is a real thirst for the show.
"Already we have seen a good uptake in stand bookings from leading companies, and we'll be working hard over the coming months to ensure the aquatics and water gardening industry can re-unite in the best possible way after such a challenging period."
With more than 10 months still to go before the show, almost half of the stand space has been sold with major firms having already signed up. These include: Aquadip, Aqua One, D-D The Aquarium Solution, Evolution Aqua/Bermuda, Fish Science, OASE and Seneye.
So what makes AQUA so attractive to exhibiting companies? Stuart Bertram, sales director of D-D The Aquarium Solution, summed up the mood of exhibitors, saying: "AQUA is the ideal environment to meet with all of our customers in a friendly and personal setting. The exhibition ticks all of the boxes for a well-run show, in a convenient central location, where we can showcase new products, meet new people or just sit down and chinwag with old friends."
Joey Abrahams, of Aquadip from The Netherlands, commented: "This event is crucial for our business and is the ideal opportunity to meet current and new UK customers. It's always a good show."
And Andy Bond, of OASE UK, added: "AQUA is such a good exhibition because it gives retailers the chance to see all the new products first hand."
Retailer Matt Hogg, of Custom Reef Aquariums, Surrey, revealed why he thinks AQUA continues to be so popular: "AQUA is brilliant. It provides visitors with an opportunity to see what's around and what's coming up. It's essential to attend this show and I never miss it."
Simon Jenkins, of Ripples Waterlife, added: "It's always great to get everyone from the trade together, and it's important this happens every two years. I thought the 2019 show was a huge success and look forward to Aqua 2021."
Details of the 2021 event can be found on the exhibition's new-look website www.aquatelford.co.uk, which includes the latest show news and how to register to visit.
To discover more reasons why AQUA has become a vital date in the water gardening and aquatics trade calendar, retailers and suppliers can view a special video of the 2019 event at https://vimeo.com/371139081.
Ends
Show photographs
Photographs of AQUA 2019 are available as follows:
1. Visit www.sirastudio.com
2. Click on Web Galleries
3. Click on the Conference and Exhibitions folder
4. Click on the AQUA 2019 folder
5. On the password screen enter: telford19
For further media information please contact Neil Pope on 07595 442601, or email press@impact-exhibitions.com