13 Oct 2021
AQUA 2021 gets off to successful start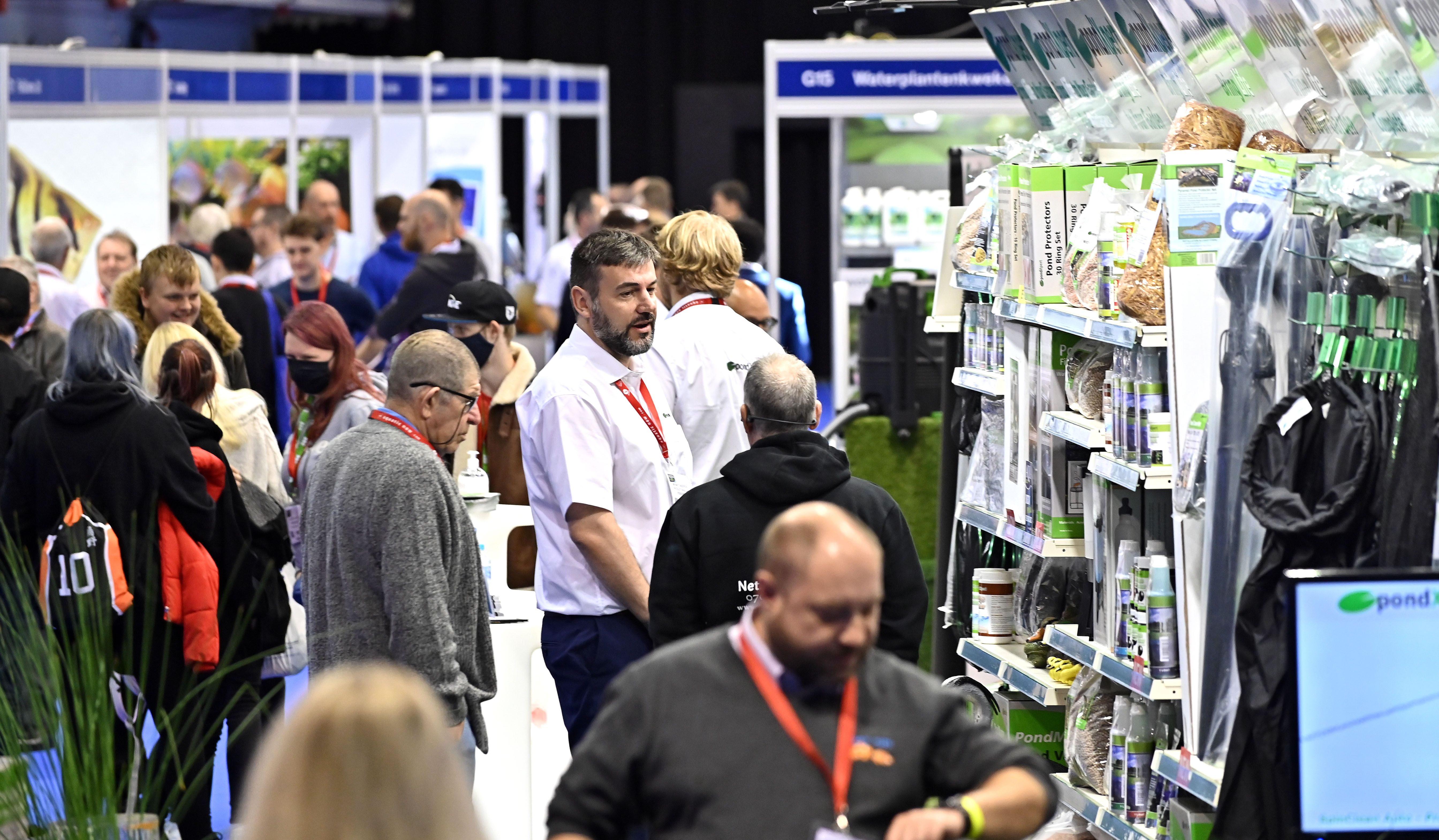 The opening day of AQUA 2021 proved popular as the biennial two-day industry exhibition gave aquatic and water garden retailers the opportunity to meet face-to-face with their suppliers.
As well as helping to reunite the industry after the Covid-19 pandemic lockdowns, the exhibition also provided an ideal showcase for an impressive line-up of new products.
The excitement has been building for months with more than 50 companies planning their new launches around AQUA 2021, and it led to a constant buzz throughout the first day.
John Roberts, CEO of Cloverleaf Pond Products, summed up the mood of exhibitors when he said: "It has been a great start, and I've been particularly impressed with the quality of visitors to our stand. We are showcasing more than 100 new products and AQUA has provided the perfect launchpad for them."
And Tom Jeffery, sales and operations manager at PondXpert, said: "We've had a fantastic first day, and it proved to us there's a real hunger for this show. AQUA is such a good exhibition because it gives retailers the chance to see all the new products first hand."
First-time exhibitor Reef Zlements launched its new range of marine aquarium dosing products, and manager director Jose Duarte was happy with the response of visitors. "The company is only 13 months old and AQUA has provided us with the ideal platform to raise our profile. So far, so good."
AQUA 2021 is also an important date in the calendar for international exhibitors. Henriette Pollekooren, a director of Aqualine from The Netherlands, commented: "This event is crucial for our business and is the ideal opportunity to meet current and new UK customers. It's always a good show, and is especially important for us."
The first day of the show also got the thumbs-up from visiting retailers. Karen Hunt, of Aqualush, Swindon, said: "I wouldn't miss this show for the world. It's the best place to find everything that's new, and perfect for seeing suppliers again."
Kevin Rose, director of Lynchford Aquatics in Surrey, said: "There was a real buzz in the exhibition hall. It seemed to give everyone a lift. This show seems to have provided the industry with a much-needed boost after all the challenges it has faced over the past 18 months."
One of the biggest show-stoppers on day one was a display of four massive koi carp, which drew crowds of visitors to the Evolution Aqua stand. The fish were provided by Warrington-based aquatic centre Quality Nishikigoi and they helped to demonstrate the effectiveness of Evolution Aqua's award-winning products as well as providing spectacular impact.
Vincent Barnard, Evolution Aqua's marketing manager who picked up a New Product Award for the company's Tempest, said: "It has been a great start to the show for us – winning an award and being busy on the stand. At one point we were swamped by inquiries. The koi carp and award helped to stimulate interest."
The show is open for a second day on Thursday, October 14, from 9am to 4pm.
Photographs can be downloaded from https://stewartwrittle.dphoto.com/album/78de2j
For more information contact Neil Pope at press@impact-exhibitions.com or on 07595 442601.